Recommended ski equipment
Normal cross-country skis are suitable. Fishscales and metal edges are recommended but not required.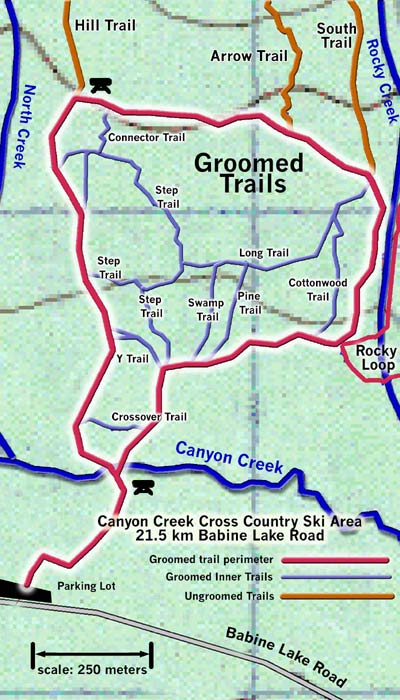 Signs
Each groomed trail is marked with the trail name, the destination of the trail and one of three skill levels.
Easy
Intermediate
Advanced
Advanced hills may have steep curves and require skill to turn at speed.
Maps of the trails are posted at major intersections and indicate where you are.
There is no cell coverage on the groomed trails so be sure to let someone know where you are going and when you expect to return.
We groom the trails every Friday or Saturday morning. We are unable to groom if the temperature is above freezing or below -15 C.
We groom flat with no track setting due to the terrain.
The groomed trails are narrow on the flat and wide on hills where you need room to turn or stop. The trails are always human-scaled and never wider than necessary.
Our snow is typically soft powder with no icing until late March and April when daytime temperatures are far above freezing.